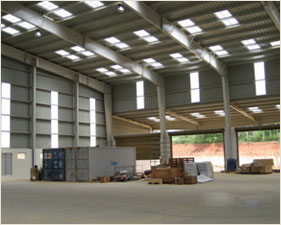 Applications of Interarch Pre-engineered Buildings For Paint Manufacturing Facilities:

Finished Goods Warehouse



RMG (Raw Material Godown)



Water based paint block Barrel godown



Resin & Emulsion Block



Packaging material godown



Solvent based paint block



Incinerator block



High Rise Buildings for the Paint Industry
Interarch with its expertise in designing and manufacturing high rise steel structures has executed a number of projects for the paint manufacturing companies where structures as high as 30m are required. The quality of our product along with the strength of our design team has enabled Interarch to manufacture High rise paint facilities for all the top paint manufacturers in the country. These high rise buildings allow you to set up massive warehouses, godowns & paint blocks achieving the functionality and efficiency required.
Interarch Building System Expertise for the Paint Industry

High-Rise buildings - Upto 30 M high



Controlled Atmosphere - Our expertise of insulation helps keep the
humidity level under limit.



Collateral load from Rafters & Purlins - Our building can withstand
60-80 Kg/Sq. M load for Ducting.



Suspended Ceiling System - False ceiling were introduced to
Indian market by our company and hence we are very well
equipped and experienced to cater to all your needs.



Expertise of design team with the technical requirement if any in
Paint plant.



Expansion of current manufacturing facility without interruption in production.

Major Projects executed for the Paint Industry