Application of Interarch Pre-engineered Buildings in Pharmaceutical Manufacturing Facilities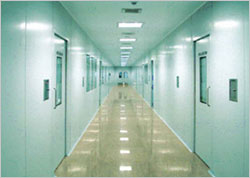 Drug Manufacturing Facility



Service Floors



Equipment & Disposable facility



Packaging & Storage Facility



Laboratory Facilities



R & D Building
Clean Room in Pharmaceutical Facility
Interarch buildings are compatible with clean room partitions which are required for Pharma Industry. Interarch design & build facility keeping in mind client requirements for manufacturing process like temperature, humidity, particulate levels, system performance, etc. Performance based contracting works particularly well with cleanroom facilities. Interarch is dedicated to guaranteeing the highest levels of quality and safety. The entire facility is meticulously designed and constructed with a view to preventing bio-contamination.
Interarch Building System Expertise for Pharmaceutical Industry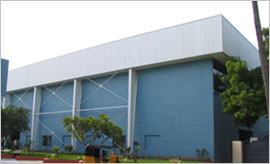 Insulation - Interarch building are well equipped for providing
controlled environment for complex manufacturing procedures



Supporting structure for clean room partitions



Loading Provision for Pipes, cables tray and other services



Practical Design-Each building is divided according to its function
and joined by the central corridor.



Distribution Efficiency-Distribution efficiency is achieved through the
implementation of an automated high-rise warehouse and AGV
system.



Box in & Box out structure: Possibilities of buildings with Box in & Box out type enclosures for specific requirements
for Pharma facility



Over 20 Projects executed for all major Pharmaceutical companies.
Major Partners for Pharmaceutical Industry

Arnita Consultants



Doshi Consultants Pvt Ltd



CGMP Pharma n Plans
Projects executed for Major Pharmaceutical Companies