If you are having troubles viewing this e-mailer, kindly "click here" for the online version.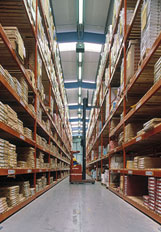 Faster occupancy-build up time required is 50% less as compared to RCC -
sooner your new warehouse is finished, the sooner your business can start using
it and benefit.



Less consumption of electricity due to energy efficient Interarch Tracdek Metal
Roof & Wall Systems



Economical Mezzanines floors to aid racking space-less space wastage.



Space Utilization-Interarch Steel building can be customized to exactly suit your
needs.



Extensive Cold storage solutions for cold area's within buildings and complete
cold storage sheds



Energy Savings with Interarch Natural Lighting & Ventilation Systems



Eco-Friendly Buildings - 90% of the material used in our buildings can be
recycled.



Architectural versatility- the building can be expanded even after construction saving time & money in future



High stacking area - 20m heights possible



Interarch Buildings are virtually maintenance free



Earthquake resistance



Fire Safe - Fire retarding solutions available providing greater safety for your products



Several exterior materials to match your current office or factory building.



Larger Clear Spans for vehicular movement with clear spans of upto 100m with no central support columns
allowing for obstruction-free movement within the building.

| | |
| --- | --- |
| | Container Corporation of India Ltd. |
| | A S Cargo |
| | Safe Express Pvt. Ltd. |
| | Star Track Terminals Pvt. Ltd. |
| | Avalon Warehousing Corporation |
| | Simon India Ltd. |
| | Nissin ABC Logistics Pvt. Ltd. |
| | Shreeji Packaging & Logistic Pvt. Ltd. |
| | Sea Bird Refrigeration Pvt. Ltd. |

| | |
| --- | --- |
| | Bajaj Auto Ltd. |
| | Hero Honda Motors Limited |
| | ITC Limited |
| | Paan Eeatables Limited |
| | D.B. Corp. Ltd. |
| | Ballarpur Industries Ltd. |
| | Kirtimaan Developers |
| | T.I. Cycles Limited |
| | Sidhant Transport |