The Indian Pre-Engineered Market is at a very nascent stage currently with very less penetration in few Sectors and one of them is the growing power sector of India which still employees conventional method of construction. This is also the case with Bharat Heavy Electrical Ltd which generally uses conventional method of construction for its manufacturing units across India , the need of power is growing at a very fast pace whereas the supply is still not been able to keep up. BHEL also with very stringent timeline to start a new production line for their Pipe Manufacturing plant which will be utilized in turbines contacted Interarch.

Project Spotlight – Bharat Heavy Electricals Ltd.
BHEL Trichy, was of high importance to them and would be major manufacturing unit of BHEL family, an ISO9001, 14001 and OHASAS 18001 company also well on its journey towards TQM. After understanding all the requirement and Interarch willingness to execute this project and past history of successfully delivering projects of major power companies like Siemens Ltd,Gujarat Industries Power Company Ltd,BOC India Limited&Crompton Greaves Ltdby Interarch,BHEL awarded the order worth 41 Cr. for design, fabrication, supply and erection of Pre-engineered steel Building for their upcoming Greenfield Project.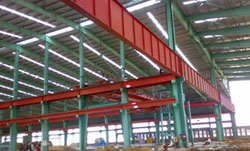 The site location of the manufacturing plant was so remote that it was difficult to find un-skilled labour even, with no population in nearby areas Interarch has to arrange for worker from as far as 30 Km. The deadline to complete the project was 8 months for engineering , manufacturing, logistic and complete erection of the buildings. Another major concern was the monsoons and rains. The site was completely flooded with water, due to which the ground got soft and uneven. Work started simultaneously at the site location and Interarch Design Center.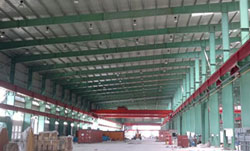 The Project Management team of Interarch shifted their mobile office to site and design engineers started working on the design of the complex building which had a main buildings measuring 230 M X 120 M , with two connecting bay to the main buildings with size 30 M X 180 M.The challenge in front of the design team was to give loading to this building in such a way that the cost quoted for the project does not increase and the connecting building could withstand the weight of 30 MT working craneswhich will be utilized in the manufacturing process. The building has many complex features like multiple EOT all over 20 MT capacities for entire building area running in tandem for multi-station function. & up to 32 m long crane beam unsupported length to meet functional need of manufacturing.

To compensate the air-changes requirements and provide healthy enviornment to the workers inside the manufactuing plant Interarch installed 900 mm throat turbo vents on the roofs for the first time.

The project management team for safety, security, quality and project execution hired around 200 semi-skilled and unskilled labors and stated work with leveling the ground, JCB were employed to finish project in schedule. Once the design was complete the entire manufacturing of 3500 MT of built up took 2 months to manufacture at Interarch pantnagar manufacturing facility as per stringent quality control and inspection provided by the client.

At site highest level of safety and installation procedure was adopted to meet BHEL international standard of working. To complete the erection process in time Interarch employed 2 shifts of workers to work day and night.

The entire erection process of the building has been done through electronically operated boom lifts instead of traditional scaffoldings to meet safety guideline.

Time was very important and with Interarch past history of delivering projects in stipulated time period, we did not take more than a fraction of second to decide to shift the manufacturing of all the roofing and sheeting which will be utilized in the project to the site with all the difficulties in logistic to the site location and security hurdles at site.

The entire manufacturing of 42,000 Sq. M of Interarch TRACDEK® Standing Seam colored roofing system with very lean slope to achieve aesthetic view of the building took place at the site.

Interarch overcome difficult situation like Monsoon, remote location, uneven & soft soils, and complex building design but delivered the project with-in stipulated time period of 8 months.

With this project delivered on time we again prove that at Interarch "We don't just supply buildings We deliver projects"