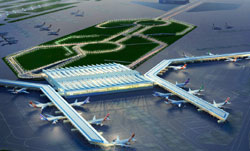 The agriculture sector of India has over the years been the single most important component of the economy. In the past two decades a lot of emphasis has been given to the technological developments in the agricultural sector, in order to raise the standard of living and the quality of the produce of farmers. Over the years the sector has evolved using state of art technology and business models to make it commercially successful via public and private enterprises.

Two such examples of innovation in the rural agricultural sector are the much talked about ventures of ITC and DCM Shriram Consolidated Ltd. (DSCL) called Choupal Sagar & Haryaali Kisaan Bazaar respectively. Chaupal Sagar is a rural retail shop & warehouse with a size of 1500 – 2400 Sq m. Harayaali Kisaan Bazaar is a chain of centres across the rural landscape of the country aimed at triggering a qualitative improvement in Indian agriculture. Each centre is spread over 3 to 4 acres of land, in hinterland locations, offers to farmers.

Interarch Building Products Pvt Ltd has been instrumental in the creation of many rural retail projectsacross the country. Their knowledge of warehousing and rural retail and their precision in execution has been brought to the forefront through their exceptional work for Chaupal Sagar and Haryali Kisaan Bazaar.

Interarch played an integral role in bringing up the steel warehouse buildings of Choupal Sagar for ITC in a short span of time with 5 larger than life size buildings across the rural areas of the country; majority being in Uttar Pradesh&Madhya Pradesh. The warehouses were made using Interarch's much spoken about roofing systems TRACDEK® Hi-Rib Bare galvalume with insulation, with cladding systems of TRACDEK® Hi-Rib SMP.

For Haryaali Kisaan Bazaar Interarch have used TRACDEK® Hi-Rib Bare Galvalume with insulation for the roofing's while TRACDEK® Hi-Rib SMP Coated Galvalume have been used for cladding. Haryalli Kisaan Bazaar is a rural retail shop & warehouse with a size of 1500 – 2200 sqm. The DSCL venture is currently present in the states of Uttar Pradesh, Punjab, Madhya Pradesh, Haryana, Andhra Pradesh, Rajasthan and Maharashtra.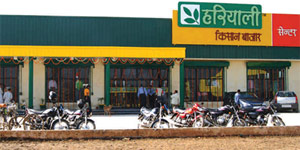 The success of Choupal Sagar has heralded a new era in the Indian agro-sector. This revolution led to seeding of the idea of raising more such replications in the other untapped areas.

The main reasons for the success of the platform have been the involvement
of local farmers and maintenance of the rural IT network by the corporate entity.

Interarch has in its work with both companies, executed various modular systems and has done over 65 buildings in over 65 locations for DSCL Hariyali Kisaan Bazaar and 5 buildings in 5 locations for ITC.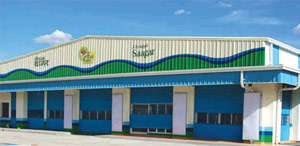 Interarch specialized in setting up 2-3 types of modular buildings that were easily manufactured as per requirement of site within 1 week and shipped to site, assembled and finished in remote locations. Interarch's exceptional abilities in turnkey design, manufacture, supply and execution of such modular systems, enable it to provide fast and effective solutions to remote projects that require standardized, multiple, modular building execution.