Interarch is engineering, manufacturing and delivering the first Guar Gum Buildings Project in India, till now no project has been done in Pre-Engineered technology. Till date all construction in this process industry take in RCC only due to complicity of the buildings but for the first time after complex engineering and innovative design Interarch has been awarded the project of new manufacturing plant of Sunita hydrocolloids at Jodhpur, Rajasthan

This building will be utilized as a process plant for making Guar Gum powder. There are 6 different units or tower in this project. Each tower has a 3 level Mezzanine floor with deck panel with floor opening for equipment pipeline.

Total height of each tower is 15.3 M. The most important aspect of this project is that this project is that all the towers will be covered by a single shed of 33M clear span and a clear height of 23M.

Each floor is designed for Static as well as Dynamic loading, that to without Cross Bracing and all Mezzanine with Bi-directional force transmission with Mezzanine beam.

This project is designed according to the latest IS design code (IS 800:2007) with consideration given to all the geographical data like wind velocity, seismic zone as per IS standard for particular site.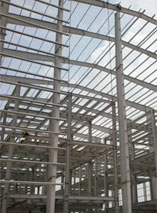 ---
Project Spotlight
Project Name
Sunita Hydrocolloids
Site Location
Jodhpur, Rajasthan
Building Usages
Process plant for the production of Guar Gum Powder.
Design Code
Latest IS design code IS 800:2007
Project Area
2400 Sq. M
Total Tonnage
650 Ton
Feature

| | |
| --- | --- |
| | 6 Tower Building with G+3 Mezzanine floor (Total height 15.3m of each Tower) |
| | Covering Shed with clear span of 33 M & Clear height of 23M. |
| | Complex Structure made in consideration for both Static & Dynamic load |
| | Wall liner with Industrial louvers |
| | Fully Insulated building with Fiberglass at wall and Polynum at Roof. |