If you are having troubles viewing this e-mailer, kindly "click here" for the online version.
Possibilities of Interarch Life for High-Rise Buildings
Interarch LIFE, a lifestyle concept for developing modern & elegant infrastructure in steel . Interarch LIFE is focused on enhancing the lifestyle, and creating state-of-the-art facilities & amenities in steel construction. Interarch Life uses the latest technology for turnkey construction of steel buildings in rural and urban development in India.

Interarch LIFE, provides a customized structural steel system for Multi-Storey Steel Buildings, offers engineering & designed Pre-engineered Steel Building Solution from concept to completion. We take innovation in engineering, and strive to go beyond the realm of conventional construction with our team of leading engineers, quality manufacturing and efficient project handling capabilities.

Application Possible for High-rise Steel Structure:

Tall buildings for Offices and other Commercial uses
Multi-Storey Buildings for Healthcare (Hospitals)
Multilevel Car parking's
Institutional Buildings for School and Colleges
Malls & Shopping Centres
Residential Buildings
Hotel Buildings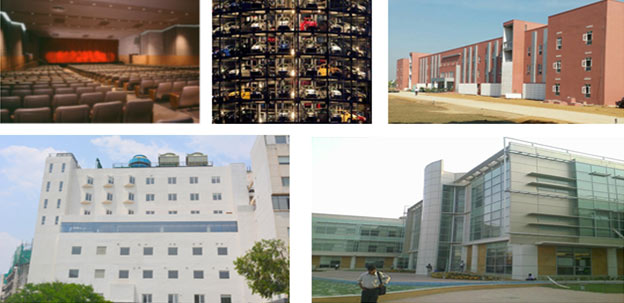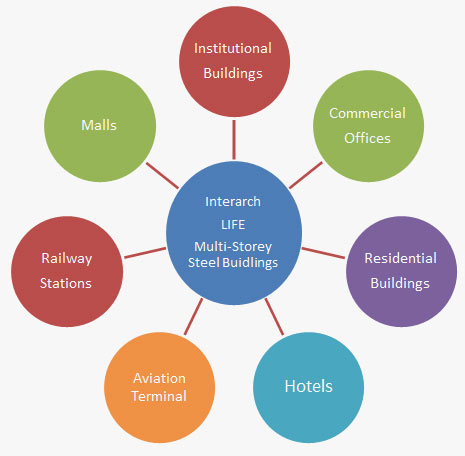 Project Spotlight: G+2 Reliance Office Building
Interarch engineered, manufactured & delivered the first Pre- Engineered Steel Multi storey office complex in India for Reliance Industries Ltd.

Reliance office space is a G+2 multi-level building built for headquarter of the Reliance Mukesh Ambani Group. It covers 50,000 sq. meters of office space and accommodates 5 star office facilities inside a completely steel structure cladded with structural glazing and aluminum composite panels.

Project Name
Reliance Industries Ltd, Corporate Park, Navi Mumbai

Building Usage
Multi-Storey G + 2 Office Building

Tonnage of Buildings
5,000 MT

Covered Area
50,000 Sq. M

Erection Time: 7 months

Special Features

First Pre-Engineered Steel Building office complex
Deck slab flooring with ceramic tiles
High-end interiors to meet international office standards
External glazing and ACP Façade
In-Built utility structure within building

Major Projects Delivered for Muti-Storey Steel Buildings

Interarch caters to some of the most diverse steel building construction projects in India ranging from clients like Fortis Healthcare, GMR, Reliance Industries Ltd, Delhi Cargo Service Centre, Club One Estate and many more. Interarch has emerged into a large EPC player providing critical Project Management Consultancy to its clients
Industry Spokesperson - Dr Jain, Vintech Consultants

Vintech Consultants are a structural design and civil engineering consultancy founded by Dr Jain in 1988, the core area of expertise of the firm is in structural design as well as retrofitting and rehabilitation of reinforced concrete and steel structures, including residential, commercial, institutional, industrial, medical, hospitality, recreational, high-rises, etc. up to 50 storeys. Dr. Jain was involved in the development of many high-rise buildings in North India, and his recent achievement is Alphathum Project, a 33 storey building spread over 24 Lacs Sq. Ft. made of composite steel structure connecting 3 buildings at the top with a bridge.

Mr. Jain feels that the future of High-Rise building is increasing day by day in India ,As per him a plethora of High Rise Buildings has come up in India from last 2 decades and the number has exponentially increased in the last decade. This trend has continued ever since and now tall building more than 50 stories would be very common in the coming decade.

He always focuses on best design practice and believes that a structural engineer should understand the feasibility of the structural system along with its effectiveness to restrain lateral loads. Other factors like asking for adequate sizes of columns and beams from architects, minimizing any irregularities and always doping back of envelope hand calculations to review the results from models. According to Dr. Jain, an ideal grid size which is globally followed would be 8.4 x 8.4 to 10.5 x 10.5 as it is governed by the parking spaces require and building functionality.

As per him the advantage of using steel structure is that steel structures have faster construction with cleaner site. Moreover, the quality control is great and large spans can be economically achieved. He feels with the exponential benefit in speed and success of steel buildings, the steel structures are becoming accepted by the clients. They have realized that this is the need of the hour. Almost all of our new queries from clients do include a presentation of the steel option too. This really means that this system is being accepted by all and people want to start with it.

He feels the normal timeline to construct a G+14 storey residential or commercial building in steel can be done in total 7 months i.e. 2 months design + 5 months for construction

Vintech Consultants provided the structural design consultancy for ALPHATHUM. The scope included complete project design along with furnishing complete design and fabrication drawings. Alphathum is one of the tallest buildings in India, which have been designed with the composite construction concept and have been executed at the site as well. The project consists of 3 buildings which are connected at the top with the bridge and the swimming pool extending to all the three buildings.

The major challenge faced by us was to reduce the structural steel consumption, so that the project cost is compared to the RCC option. At the same time, maintain the pace of construction for fast execution. After various iterations and discussions, composite structure was chosen.



Primary / Secondary Frame of the building
The frame is a dual system of Special concentrically braced frame and shear wall systems. The columns are composite column with steel fabricated I sections of grade 550 encased in concrete. The beams are steel beams of grade 450, fabricated and rolled parallel flange I sections designed compositely with the slab. The composite action with the slab facilitates a lower depth of the beams, lower material consumption and lower deflections. The shear transfer between beams and slabs is facilitated by channels of 75 mm depth ensuring slabs behaves compositely with beams.
Building made possible in Steel: The Empire State Building, New York

The Empire State Building is the most iconic skyscraper ever built. Whether its legend was sealed with scenes of a giant ape battling bi-planes with one hand while cradling Fay Wray in the other, or its enduring status as the tallest building in New York (post World Trade Centre), the Empire State Building is the one sight most visitors to the city have atop their lists.

Receiving gold Leadership in Energy and Environmental Design (LEED) rating in September 2011, the Empire State Building is the tallest LEED certified building in the United States.

It set new benchmarks for construction when it was completed in 1931, and it held the title of World's Tallest Building for over 40 years before being eclipsed by the World Trade Centre in 1972.As it turned out, that ended up being 381m. The steel framed structure was built in record time (13 months) by contractors.

• Tonnage: 57,000 tons of steel
• Floor Area: 2.08 Lakhs Sq. M
• Floors: 103
• Height: 381 M