If you are having troubles viewing this e-mailer, kindly "click here" for the online version.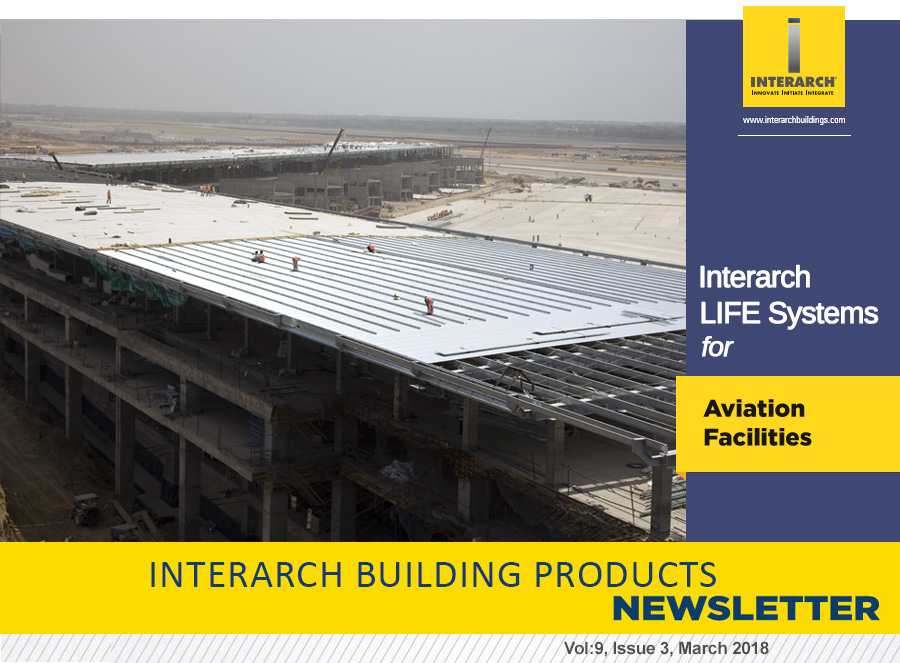 Advantage of using Interarch structural steel system for the Aviation Industry
Industry Spokesperson - Prof. Charanjit S Shah Founder Principal-Creative Group, New Delhi

Prof Charanjit Singh Shah is an architect, planner & infrastructure expert with 5 decades of practice. He is a practicing architect, planner, author, scholar, educationist, teacher, art & architecture critic & practicing in creating sustainable green architecture. He is the author of many books in architecture & recently authored "Redefining Indian Sustainable Smart Cities".

His works speaks of his contribution looking beyond architecture & development of large infrastructure projects like airports, metro stations, railway stations, transit-oriented development, inter-modal hubs and creating sustainable, walkable, cyclable neighborhood and creating 'Indian Sustainable Smart Cities of Tomorrow'. He is being adorably called as AIRPORT KING.

Dr. S.S. Bhatti, has been tempted call Prof Shah the 'Patrick Geddes of India' in creating sustainable architecture. Prof. Shah has also successfully initiated 'Smart Habitat Foundation' – a centre of excellence in pursuit of art and architecture, urban planning, transport and infrastructure and a platform where academicians and practitioners come together to interact in form of a serious dialogue bridging the gap between academics and practical application CREATIVE GROUP is one of the leading international architecture and design practices based in New Delhi, India that offers services in Architecture and Urban Planning, Project Management, Financial Analysis, Construction Management, Engineering and Building Consultancy. Creative Group moves forward with the philosophy that 'a built form should not be treated as a dead mass of brick and concrete, but as a living organism, allowing it to breathe with nature'. Established in 1973 by Prof. Charanjit S Shah, the firm has 45+ years of experience delivering award-winning architectural projects across Infrastructure, Aviation, Real Estate, Commercial, Institutional, Industrial and Corporate sectors.

According to him, aviation is a gateway of a city and now has become a necessity rather than a luxury. Aviation has a large scope in India as connectivity is required pertaining to urbanization. Additionally, short town connectivity is required nowadays. We are going to see many small and large airports coming up in India in the next 5 years. We are going to see around 500 small or domestic airports in the next few years.

Focusing on construction methodology, he feels that most of airports in India have been constructed in steel structures due to benefits like possibility of a large span, dynamic design, easily expandable, low cost and long life. He feels that architects, consultants and steel fabricators should work together to create prototype designs of pre-fabricated structures for terminal buildings which can be installed quickly. Additionally, other facilitates required like cargo terminals, hangars etc. where steel has become an obvious choice for construction, should be readily available with different modules for faster execution in future.

For a terminal building, the design plays a vital role therefore an architect should choose a simplistic and dynamic design with an ideal clear span of 32-35 M and distance between the columns should be 14-16 M. This spacing makes the terminal building more efficient and affordable. An architect should understand factors like air traffic, air space, and other factors like environment & social impact, air space conflicts before finalizing the design.

According to him, through the last many years various types of structures like space frames, nodes, trusses, plate portal have been used for making airports in India but now he foresees large span and prefabricated steel structures which are light weight, expandable, economical, aesthetical to eye, being used in time to come. The architect should also use fire paints to provide fire safety for 1.5 hours as per National Building code.

On the typical size of terminal building, Prof Shah feels that the size of the terminal building can range from 5000 sqm to 40,000 sqm to 80,000 sqm where both domestic and international operations take place. The minimum size of a building should be 5000 Sqm where a smaller plane, an ATR-72 comes with a load of 150 passengers, to and fro every hour. The time period to execute the smaller airports is around 3 months whereas it takes 18 months to complete a large airport. For example, the Chennai airport is around 1, 35, 000 sqm and it took 18 months to finish the construction.

For constructing a green building, design must focus on sustainable architecture to gain parameter to attain IGBC rating. An architect should follow sustainable architecture; passive design practices along with the placement of the building and the orientation of the building are some very important factors to keep in mind. One has to find ways to maximize the daylight and minimize the heat gain in the building.
Mr. Shah feels that pre-fabricated steel is the only material of the future which has the maximum advantages - versatile material, faster and most appropriate to construct terminal buildings in India

Project Spotlight: Swami Vivekananda Airport (Brownfield Project)



Client : Airports Authority of India
Year of completion: 2013
Cost: 129.66 Crores
Site Area: 79 acres
Area: 20,900 sq.m
Terminal Building: 18,500 sq.m
Sub Station Building: 2,000 sq.