If you are having troubles viewing this e-mailer, kindly "click here" for the online version.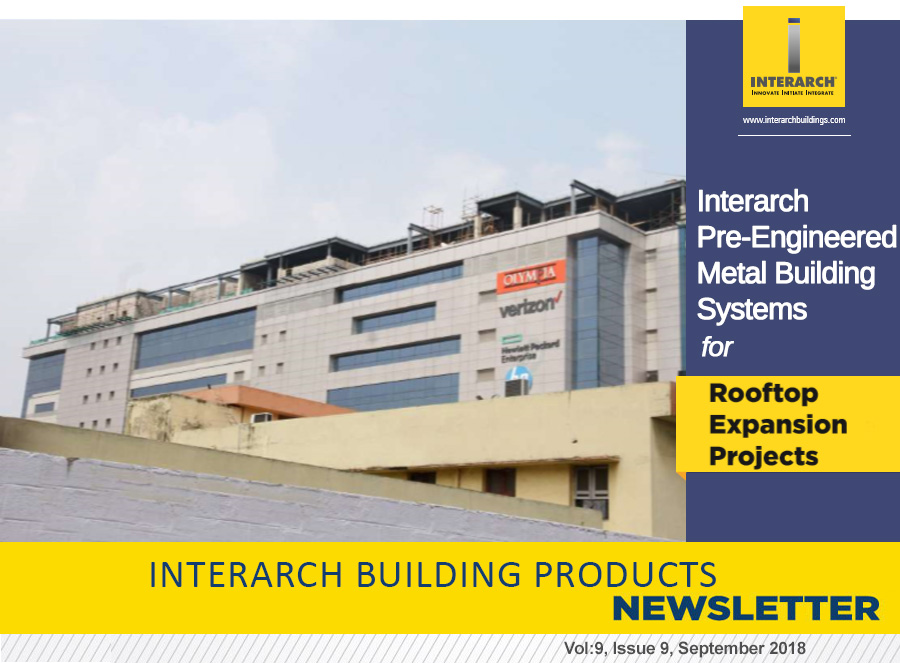 Interarch Industry Spokesperson - Ar. Abhijit Ray, New Delhi
AR. ABHIJIT RAY is one of the renowned names in the construction industry with is a professional experience of more than 40 years with expertise in Industrial Projects, Housing, Hospitals, Academic & Institutional Buildings, in Delhi NCR & various part of the Country. He is principal owner of Abhijit Ray & Associates a proprietary consultancy firm and has won numerous awards like the Dutch Government Fellowship in 1973, Certificate Merit for Asia 1972 Trade Fair Commendation in low cost housing design competition organized by Housing & Urban Development Corporation in 1974-75. , Distinguish Services Award (2017) from I.I.T. Kharagpur. & Merit Holder Alumnus of IIT Kharagpur, B Arch (Hons) in 1969.

According to Mr. Ray, due to space scarcity and increase FAR policy, the rooftop expansion is very popular nowadays and steel structure takes a lead for such kind of expansion. When the project is executed in steel it helps in achieving shorter construction time and reduces the roof load and dead load on the building. Metal roof helps in reducing weight of super structure, including the roof.

As per Ar. Ray, steel structure is going to be the future of rooftop structure and currently it is huge in demand in school and college building, specially government sector because steel building is considered a semi-permanent structure as per building by laws and doesn't require sanction from municipal authorities and cater the immediate need of adding to the new classroom. Delhi Government Schools are expanding their rooftop classroom in steel structure only. Even lots of colleges are adopting a steel structure for their rooftop expansion.

On focusing on the role of the architects, he suggests that the Architects need to examine the load bearing capacity of the roof, columns and the foundations. Steel structure building helps in reducing weight of the superstructure including the roof. As rooftop expansion is case specific, building to building, project to project so the architect needs to give more emphasis towards a total aesthetic of the building considering the vertical expansion in steel structure roofing. In case of metal sheet roofing, proper detailing has to be taken for the drainage of water through the existing downtake system and fascia must match with existing elevation.

In order to obtain a comfort level inside the building, roofing specification needs to be examined from the point of view of heat and cold seasons. Use of false Ceiling in roof and insulated panel in wall helps in reducing the impact of outside weather. It is also advisable to use a double skin metal sheet or single skin metal sheet roofing or under deck sheet insulation along with False ceiling for thermal comfort, aesthetic and acoustics.

Mr. Ray was involved in Rooftop office building expansion of JTEKT India Ltd at Dharuhera and Gurgaon. Since the expansion was challenging and he carried out with steel structure building considering metal sheet, insulation and false ceiling. Projects were completed around 20 years back and it is still performing well.

While considering connection details he suggests that proper time must be spent in the engineering stage so that there are no problems in the pre erection stage and the site activities can be carried out in an organized manner which brings the organized Pre Engineered building companies to offer their technical knowledge.

By focusing on the time schedule of additional floor on existing building Mr. Ray feels it is depends on the size of building and system adopted for column, beams and the roof sheeting specification. But generally there is an advantage of 30-35 % of time reduction if you go with the steel structure system. Mr. Ray gives more emphasis on safety parameters as fire safety norms need to be followed while designing and execution of construction.